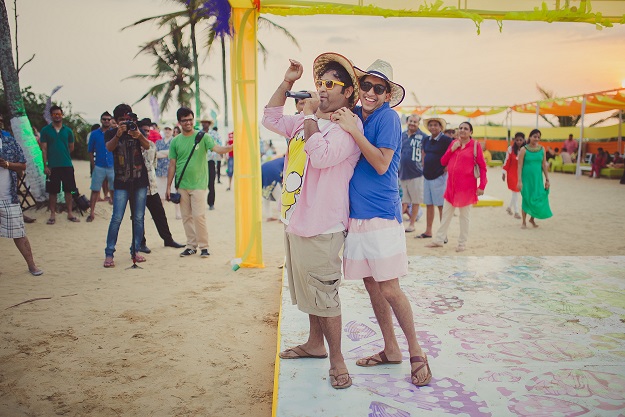 King of pool & beach parties
Bigger the event; greater the impact!! This is what is perceived of entertainment in Weddings and parties.  They create moments to be cherished for life. Theme weddings have always been big business churners for a gamut of verticals that are associated with it; be it catering, décor, entertainment or trousseau. But what has caught with the imagination of the youth in the recent past is the fun & entertainment quotient for their weddings.
In the last decade or so, this genre has seen a lot of diversity. The in demand local orchestra with natural talent has given way to leading Bollywood singers; and the good old 'giddha' and 'bhangra' at Ladies Sangeet has now turned into fully orchestrated staged performances. We now have an entirely new affair to keep us entertained throughout the wedding and one of these new avatars is known as wedding rapper.
In the entire spectrum of exclusive entertainment  Siddharth Sood aka MC Sid – the WEDDING RAPPER is the answer to all your questions.  Sid brings out the best from your parties as well as all your special occassions. MC Sid's composition of lyrics is instantaneous and original. He entertains the crowd by mixing his lyrics with popular hip hop beats. Sid is better than any other DJ/ Percussionist due to his dynamic dimensions. Being a spontaneous fellow you can expect the unexpected. He also uses Punjabi break beats in his compositions that indigenize the content and helps him to relate to the select gathering. Sid says his Rap is fun , cheeky and always engaging which increases the appreciation of his talent.
Unique in the business of  being a Wedding Rap artist, MC Sid has been performing at a lot of high profile weddings all over India and abroad, including destination weddings at Hua Hin- Thailand, Bali, Singapore, Dubai, Abu Dhabi, Hong Kong, Madrid, Bangkok, Colombo etc. He makes sure your guests have the ultimate party experience with a combination of dance, music and entertainment.MC Sid performs in 4-5 sets of 7-10 minutes each along with the DJ and keeping the dance floor rocking!