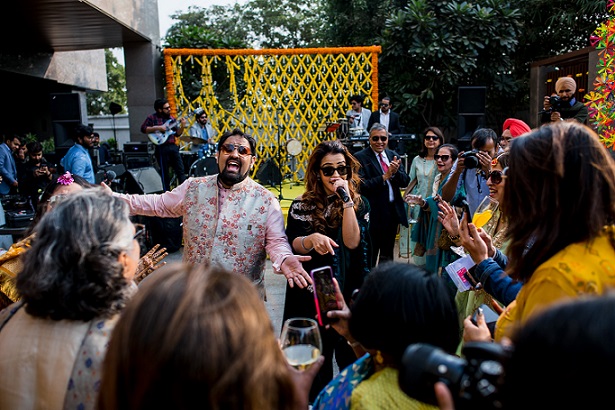 'RAP BOLIYAAN'
When somebody tells you that they attended a wedding, what comes to your mind is the colorful and beautiful ambience with the longest menu of food on the plate and the best of music. You can only experience an Indian wedding when your experience is larger than life and to be remembered for the rest of your life. It's not merely a celebration with your immediate family but it involves the get together of generations. The entire planning that takes place around these weddings is done for months to decide the dresses to wear, the food to serve, the beats that will shake your legs and much more. After all, it is called "The Big Fat Indian Wedding" for a reason. Indian weddings hold a sense of strong family values and is this time when the entire family is together and in great spirits. The colors, the music, the food, the décor and all that jazz makes Indian weddings what they are.
We Indians love big fat weddings – loud, grand and lavish. Weddings are elaborate affairs, spread over several days preceding and following the 'Big Day'. Different celebrations over days, keep the guest binged at all times. One of most crucial part of Indian weddings is dancing, and mind you, dancing all the time. The fun and entertainment quotient in Indian weddings is never ending.
Getting along with the new entertainment trends many of the Indian weddings not merely jump on break beats but also go Gaga with rap! In the last decade or so, this genre has seen a lot of change. That popular local orchestra with colloquial talent has given way to leading Bollywood singers; and the good old 'giddha' and 'bhangra' at Ladies Sangeet has now turned into fully orchestrated staged performances.
Amidst this entire array of entertainment specialists in the wedding space, Siddharth Sood aka MC SID has emerged as one of a kind wedding rapper. His spontaneity and the use of Punjabi break beats in rap, always mesmerizes guests. Sid likes to say his rap has an eclectic Punjabi touch as has been in vogue DDLJ style , totally increasing the appreciation for his talent. Coming up with some funkier concepts like 'Rap Boliyaan' is also catching the attention of high profile Indian weddings. This combination of Bhangra beats with Boliyaan and Rap guarantees to make you stand up and groove all day and all night. The hesitation that stops you from dancing would take a back seat when the most energetic dhol is played in constant sync with cool raps and traditional Punjabi folk verses!
The Indian wedding affairs are a token of love and happiness we share with our near and dear ones. In those days of celebration, we experience a sense of joy and make memories for a lifetime. So, next time when someone says they have attended an Indian wedding, well you know what an Epic time they've had!